For those of you who followed my blog in the past, my apologies for straying away from all the fun we have had in our book club- and also the recipes for deliciousness to go with each book...I have spent the last year battling breast cancer, but everything looks great so I am back!
Instead of going back years and years, and trying to remember all the details of each book club (my memory is not as good as it once was) I am going to begin with last month (June 2012).
Debbie hosted the book "PICKING COTTON" by Jennifer Thompson-Cannino, and Ronald Cotton.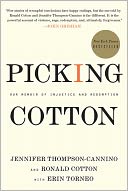 Overview
Jennifer Thompson was raped at knifepoint by a man who broke into her apartment while she slept. She was able to escape, and eventually positively identified Ronald Cotton as her attacker. Ronald insisted that she was mistaken-- but Jennifer's positive identification was the compelling evidence that put him behind bars. After eleven years, Ronald was allowed to take a DNA test that proved his innocence. He was released, after serving more than a decade in prison for a crime he never committed. Two years later, Jennifer and Ronald met face to face-- and forged an unlikely friendship that changed both of their lives.
Heavy topic, but a great book to discuss. Debbie decorated the tables with boxes of evidence, and had
test tubes of "blood" tied to each napkin with raffia. ( I told you our book club goes all out !!)
Debbie served a delicious barbeque dinner- barbeque pork, brunswick stew, mexican cornbread and coleslaw....
As the cohostess, I made the dessert. It was a recipe I had in my files since the 70's called Cotton Pickin' Cake (very appropriate you would say).
Cake
1 box yellow cake mix
1 (11 oz) can mandarin oranges with juice
4 eggs
1/4 cup vegetable oil ( I use Wesson)
Frosting
1 (16 oz) can crushed pineapple, drained
1 (3.4 oz) pkg instant vanilla pudding mix
2 (8 oz) containers Cool Whip or
1 quart heavy cream whipped and sweetened
with 1 cup sugar ( we like things sweet in the South)
Preheat oven to 350 degrees. Grease and flour three 8 inch round pans. Mix together the 4 cake ingredients. Divide the batter among the prepared pans. Bake for 15-20 minutes, until done. Cool the layers on wire racks.
Mix the drained pineapple with the dry pudding mix and fold this into the Cool Whip. Fill and frost the cooled cake layers. Refrigerate until ready to serve. This is a good cake to make a day ahead so the flavors blend.
Look for my next post in August- don't know yet what book Lisa has chosen for us to read but sure it will be a winner!